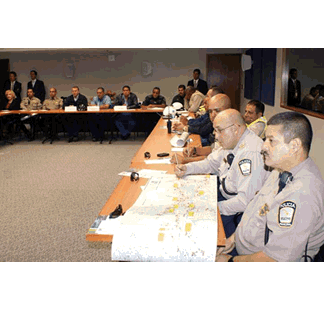 Security forces committed to CAF Marathon - Caracas 2011
November 18, 2010
The sporting event, to be held next February 20, is on the agenda of the national and municipal security forces, the Venezuelan Athletics Federation and companies allied to CAF
(Caracas, November 18, 2010).- CAF and the security agencies of the Capital Region agreed a timetable of actions to guarantee the security of the competition and the physical integrity of all participants in the CAF Marathon - Caracas 2011.
The multilateral institution has worked to create partnerships with various public bodies to unite and coordinate the logistical and security efforts for the marathon. The following bodies have made a commitment to the sports event: Ministry of People's Power for Internal Affairs and Justice, Metropolitan Police, National Police, Civil Defense, Traffic Police, Fire Brigade, and the local governments and police of Baruta, Chacao, Libertador and Sucre – areas through which the route of the marathon will pass. Representatives of all these agencies participated in a first meeting to coordinate security held recently in CAF.
Hipereventos – CAF allied company – and the Venezuelan Athletics Federation (FVA), which has given its full support for the CAF Marathon-Caracas 2011, are also involved in the planning process. The FVA considers the race one of the most important street sport events held in Venezuela and has promoted it as a competition with high international profile and an opportunity to generate new spaces for Ibero-American sports integration.
The planning of the closing of the routes of the Marathon and Half-Marathon, along with identification of critical intersections and alternate routes, were key topics of discussion by specialists in an effort to guarantee the security and well-being of all participants. For CAF, this race is not only for athletes, but also an opportunity to contribute to greater participation, tolerance and integration of the Caracas community, which is why it is important to carefully plan the logistics and security of the event and its environment.
Three months in advance, all the bodies involved agree that the success of this international sports championship will depend on the quality of its security, which means that coordinated planning between all security forces is crucial. The organization of joint working tables is part of the agenda agreed by all involved in planning the activities, from certification of the route to dismantling the event, and coordinating the security measures needed to guarantee ultimate success.