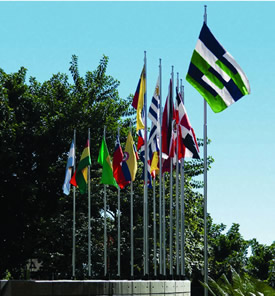 Concert for Ibero-American integration
December 05, 2010
During the XX Ibero-American Heads of State Summit held in Mar del Plata on December 3, the Ibero-American Youth Orchestra played for the first time in Argentina.
Under the baton of maestros Henry Dudamel and José Luis Castiñeira de Dios over 150 young people gave a masterful performance.
(Caracas, December 5, 2010)-. CAF, Latin American development bank, in its permanent commitment to building human capital, has been supporting various initiatives under its Social Action for Music Program, which offers opportunities for social inclusion, learning and artistic development to young people with skills in this discipline.
On this occasion, and as part of the XX Ibero-American Summit of Heads of State and Government held on November 3 and 4 in Mar del Plata, CAF sponsored the first performance in Argentina by the Ibero-American Youth Orchestra – formed by over 150 young people from different nations – who under the direction of maestros Enrique Barrios and José Luis Castiñeira de Dios, delighted the audience with their repertoire in the Auditorium Theatre.
CAF President & CEO Enrique Garcia expressed his satisfaction with the support the orchestra is receiving in order to continue developing as a significant example of closer relations and integration between countries. "The symphonic experience is part of the artistic and creative expression of peoples, and opens opportunities for reinforcing civic values and culture in the region and for promoting conditions for social transformation and Latin American integration."
The event was backed by the Ibero-American General Secretariat (Segib); the Argentine Ministry of Foreign Affairs, International Trade and Religion; Mar del Plata municipality; the Cultural Institute of Buenos Aires Province; the General Secretariat of the Presidency of the Nation; and the of Argentine Secretariat of Culture.
Music for social rescue
A decade ago CAF began its Social Action through Music Program as an instrument for promoting the social inclusion of Latin American youth and their education in values, through choral and orchestral practice. Inspired by the Venezuela System of Youth and Children's Orchestras and supported by its creator, maestro José Antonio Abreu, the program includes the Latin American Youth Symphony Orchestra, Latin Voices Choir, Latino Traveling Conservatory and the Latin Lutherie Workshop.
So far, the Program has promoted the integrated education of 40,000 children and young people, 380 teachers and 50 luthiers on our continent.
By promoting initiatives such as the Social Action through Music Program, CAF reaffirms the importance of the value of artistic expression as an effective mechanism for social transformation and enhancement of the cultural essence of our peoples.