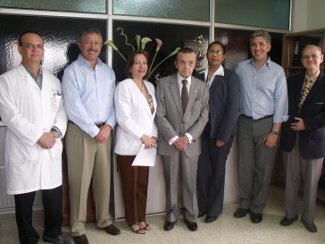 Joint effort with Guayaquil Welfare Board to improve hospital waste management
December 16, 2010
The Latin American financial institution granted technical cooperation funds to the Guayaquil Welfare Board to improve integrated solid waste management.
(Guayaquil, December 16, 2010).- CAF - Latin American development bank - and the Guayaquil Welfare Board (JBG) signed a technical cooperation agreement to improve the process of managing the hospital waste generated daily by its four hospitals (Luis Vernaza, Lorenzo Ponce, Roberto and Enrique C. Sotomayor Gilbert).
The Guayaquil Welfare Board operates one of the largest hospital complexes in the country, which produces a significant amount of solid waste. For this reason, JBG is reviewing all its procedures for handling hospital waste, which is considered dangerous because of the biological agents it contains and the negative effects they cause in the environment and society.
Krützfeldt Hermann, CAF director-representative in Ecuador, said the multilateral institution was strongly committed to the environment; as a result, it was decided to support this initiative to improve urban environmental quality by developing a replicable environmental management model in several countries in the region.
The technical cooperation studies include management methods for hospital waste, in accordance with the international standards and regulations in force which cover classification, collection, storage, transport and final treatment of the waste, improving the process of safety and environmental care.
The Guayaquil Welfare Board is a non-governmental non-profit organization which provides social, community and health services, and works to identify and find global solutions to social problems in Ecuador.