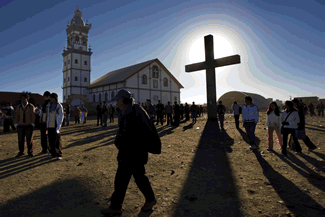 The People of El Alto, a photographic view
(La Paz, December 3, 2010).- After 25 years of existence, the reality and contrasts of the city of El Alto are now reflected – through the art of photography – in the book "Los Alteños." This important publication with over 250 pages produced by the photographers Patricio Crooker and Alfredo Zeballos, journalist Mario Roque, founder of the El Alteño newspaper, and journalist Gabriela Romero.
"In form and content, the work conveys the intense search for their own identity in which El Alto and its inhabitants are immersed", said photographer Patrick Crooker describing the work which was sponsored by CAF, Latin American development bank and the companies Soboce, Viva and Sumapacha.
CAF director representative in Bolivia Emilio Uquillas said "as a city with wide-ranging economic dynamism and vibrant demographic movement, El Alto is a model of urban expansion which is profoundly representative of Bolivian nationality and merits being presented to the world through works such this."
The photos presented in the publication emerge from the very bowels of the people of El Alteño and are, to outsiders, a synthesis of Bolivia, and at the same time a paradigm of the path a young city can choose.
The books contains images which reflect multiple facets of the city, from women wrestlers to the vigorous development of industries, along with the "16 de Julio" trade fair, sports, festivals, folklore, art and culture. This work deserves to be seen by both Bolivians and foreigners to appreciate the richness of Latin American culture.
The city of El Alto, in La Paz department at 4,000 meters above sea level, is home to over a million people. The photos in the book highlight all the aspects encompassed in its population, its barrios, the unity and syncretism of the age-old Aymara culture, the rebellious and fighting spirit of its people, and a new cosmopolitan culture looking to the 21st century.