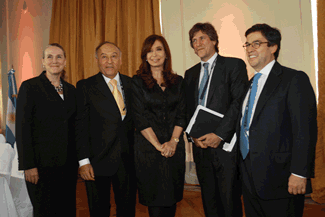 US$640 million for energy and road infrastructure sectors in Argentina
December 03, 2010
US$500 million will finance the project 500 kV Extra-High Voltage Line: Pico Truncado-Rio Turbio-Rio Gallegos-Calafate, while US$140 million will go to the Regional Road Development Program, which CAF has been supporting since 2004. The Argentine president was witness of honor at the signing of the two agreements by the president & CEO of the Latin American financial institution and the Argentine minister of Economy.
(Mar del Plata, December 3, 2010).- In the presence of the president of Argentina, Cristina Fernandez de Kirchner, Enrique Garcia, president & CEO of CAF - Latin American development bank, and Amado Boudou, minister of Economy and Public Finance, signed two loan agreements for projects totaling US$640 million during the XX Summit of Heads of State and Government. The first for US$500 million is destined to finance the 500 KV Extra-High Voltage Line: Pico Truncado-Rio Turbio-Rio Gallegos-Calafate; and the second for US$140 million is for the Regional Road Development Program.
García said the multilateral financial institution has accompanied the Argentine government's strategy, in terms of investments in sectors which stimulate the country's growth "over US$3.7 billion was approved between 2005 and 2010."
Support for energy provision
In an effort to meet electricity transmission needs under the Federal Transport Plan, and thus contribute to bringing stability, safety and reliability to the system and linking the Patagonian and Argentine Interconnected Systems, US$500 million was allocated to the extra-high voltage project.
The project will be executed by the Department of Energy of the Ministry of Federal Planning, Public Investment and Services, through the Management Committee of the Trust Fund for Federal Electricity Transport.
García added, "Argentina's economic growth significantly increases power consumption. To meet this demand, the government has executed several projects to increase electricity supply which have boosted generating and transmission capacity, and CAF has provided sustained backing for the country's effort in this sector."
Better roads for the most vulnerable sectors
To increase and optimize the trafficability of provincial road networks, with the aim of stimulating productive and social integration between the regions of the country, CAF approved US$140 million for the Regional Road Development Program.
"These operations comprise programs to improve the competitiveness of geographically remote areas, which contributes to economic growth and improving the quality of life for low-income populations in these regions which are the most vulnerable," the CAF president said.
The loan will be used for investments in road infrastructure in Misiones, Formosa and Chaco provinces, pre-investment expenses for studies and projects, and to strengthen the Road Departments of the participating provinces.