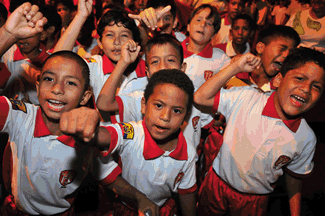 Friendship Cup brings together 318 teams from the continent
January 24, 2011
Football teams for children and young people from 13 countries in North, Central and South America are playing in the tournament organized by Cantolao Sports Academy supported by the CAF Social Action Program for Sport
This program helps improve the quality of life of children and youngsters at risk by using sport as a tool for social prevention and rescue.
(Lima, January 24, 2011).- A total of 318 football teams for children and young people from 13 countries in North, Central and South America will take part in the "XXVIII Friendship Cup" which begins today until January 30 in sporting venues in the Peruvian capital, organized by Cantolao Sports Academy with support from CAF - Latin American development bank.
The opening ceremony of the "CAF Friendship Cup" and a parade of the delegations were held in the main plaza of La Punta - Callao, with a lively and colorful display of the flags of participating countries.
CAF representative director in Peru Eleonora Silva Pardo said the cooperation provided by the institution for organizing the tournament was part of the CAF Program for Social Action through Sport (PASD), a macro initiative which the multilateral institution promotes in 10 of its shareholder countries, to improve the quality of life of children and young people at risk, using sport as a tool for social prevention and rescue.
Through PASD funds are channeled into sports programs which foster formation of values, education and life skills, social integration, gender equality, health and disease prevention, as well as inclusion of people with disabilities.
"We support these initiatives because we believe that sport is a valuable tool for the physical and mental development of young people, as well as for formation of values, integration, social rescue and opportunities for children - especially from low-income families - to become agents of their own change," Silva Pardo said.
The president of Cantolao Academy, Dante Mandriotti, said the Friendship Cup was the most important football tournament for youngsters in America, because it has FIFA approval and UNICEF support.
"In the Cup's 27 past events, teams have participated from all the corners of our country and the world, with the participation of children aged from nine to 16. This year the categories are: men's football (1994 to 2003), and a single woman's category (1993). Matches will be played in the following sports venues: Liceo Naval College, Club Chalaco, Cultural Lima, Football Center and Claretian College," he said.
Sports integration meeting
The Friendship Cup – which enjoys CAF support for the fourth year running – has become a tournament of integration since in past years teams have participated from America, Europe and Asia, with players aged from nine to 16.
The following clubs are participating in this year's tournament: Club Defensor Buenos Aires from Argentina; Ramiro Blacut Football School and Tahuichi Academy from Bolivia; Corinthians, Atlético Paulstinha and CA Juventus from Brazil; Monaguillos Football School from Colombia; Colo Colo, Deportivo Iquique and Barrabaces from Chile; and Cruz Azul and Pachuca from Mexico.
The list also includes Deportivo Aucas, Metropolitan School of Guayaquil and Club Rocafuerte from Ecuador; Golden Soccer Ohio and Pennsylvania from the United States; Orientalitos Football School from Panama; Club Los Mismos Colores from Uruguay, along with local teams Cantolao, AELU, Sports University, Melgar FBC from Arequipa, CNI from Iquitos, Bolognesi from Tacna, Sport Tarma, Juan Semino Academy from Piura, Nobel from Tumbes, César Vallejo from Trujillo, as well as teams from Ica, Junín, Puno, Loreto, among others.
In earlier Friendship Cup events, international players have taken part such as the Argentines Lionel Messi and Javier Zanetti, Uruguayan Alvaro Recoba, Bolivian Marco Etcheverry, and Peruvians Nolberto Solano, Jefferson Farfan, and Claudio Pizarro, among others.