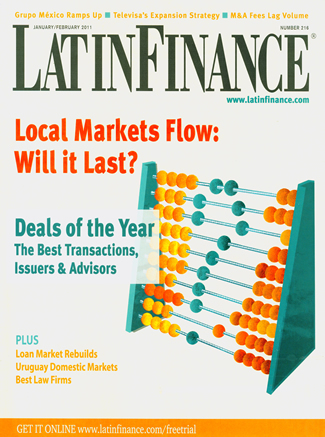 Local currency issue in Mexico co-structured by CAF receives LatinFinance awards
January 24, 2011
The transaction received new awards from the prestigious publication as Best Structured Financial Transaction and Best Financial Innovation.
(Caracas, January 24, 2011).- The stock market issue at 20 years in Mexico in August 2010 for 4.065 billion Mexican pesos ("MXN"), equivalent to approximately US$320 million, received new awards this week. Now LatinFinance magazine has recognized the operation as Best Structured Financing Deal and Best Financing Innovation.
The issue consisted of placement of securities in two Series. The A Series for MXN 2.765 billion (approximately US$217 million) with a total guarantee from the US Overseas Private Investment Corporation (OPIC), while the B Series, backed by a partial guarantee from CAF, was for MXN 1.300 billion (approximately US$102 million).
The transaction was recognized by the prestigious publication because of its innovative structure and as the first issue by a subnational entity in Mexico. Latam Capital Advisors acted as structuring agent and advisor to the Institute for the Registration Service of the State of Mexico (IFREM). The bonds will be paid from the Institute's future income. The funds from the bonds will be used to modernize IFREM and make other priority investments in the infrastructure of the state of Mexico, which has 14% of the country's population.
"CAF is interested in participating in this type of operation because it provides a new funding mechanism in the region, while stimulating local capital markets," Enrique Garcia, president & CEO of CAF - Latin American development bank - said. "The joint efforts of the state of Mexico, OPIC, Latam and CAF have resulted in a successful transaction which offers a new investment alternative in local currency to local investors, which generally have few opportunities to invest in long-term quality assets," he added.
Each series is at 20 years, amortizable with fixed rate in Mexican pesos (MXN). The CAF partial guarantee for this issue (for MXN 390 million) was the first by the multilateral in local currency. The B Series had a local AA credit rating from Standard & Poor's and Fitch, while the A Series had a local AAA rating.