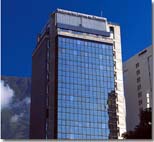 Mexican subnational entity wins International Financing Review prize
January 17, 2011
Local currency issue by IFREM wins International Financing Review award
The innovative structure of the transaction was recognized by the prestigious magazine as Transaction of 2010 in emerging markets
(Caracas, January 14, 2011).- The winner of the Best Transaction 2010 on emerging markets was awarded by the International Financing Review to the stock issue at 20 years made in August in Mexico, for 4.065 billion pesos ("MXN") approximately US$320 million.
The issue consisted of placement of securities in two Series. The A Series for MXN$2.765 billion (approximately US$217 million) was totally guaranteed by the US Overseas Private Investment Corporation (OPIC), while the B Series, supported by a partial guarantee from CAF, was for MXN1.300 billion (approximately US$102 million).
Each series is at 20 years with fixed rate in Mexican pesos (MXN). The CAF partial guarantee for this issue (for US$390 million) was the first to be denominated in local currency. The B Series had a local AA credit rating from Standard & Poor's and Fitch, and the A Series had a local AAA rating.
Latam Capital Advisors acted as structuring agent and advisor to the Institute for the Registration Service of the State of Mexico (IFREM). The bonds will be paid from the future revenues of the Institute, a decentralized body whose main function is to guarantee the legal ownership of the public assets of the people of the state. The funds from the bonds will be used to modernize IFREM and make other priority investments in the infrastructure of the state of Mexico, which has 14% of the country's population.
The transaction was recognized by the publication for its innovative structure and as the first issue by a subnational entity in Mexico.
The objective of the local currency guarantee issued by CAF is to strengthen the Mexican capital market and its capacity to support national development.
The Overseas Private Investment Corporation (OPIC) was set up as a federal agency to promote the economic and social development of emerging countries, and facilitate the participation of US private companies in managing the risks associated with foreign direct investment in these countries.
Latam Capital Advisors is a subsidiary of MBIA Inc which offers structuring and financial advisory services in Latin America.