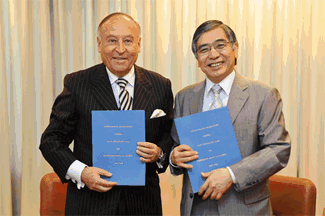 Strategic alliance sealed with Asian Development Bank
January 20, 2011
CAF and ADB sign memorandum of understanding to deepen trade and investment relations between Latin America and Asia
(Manila, January 20, 2011).- The two institutions which share a mission - to achieve the sustainable development and integration of their regions - today signed a memorandum of understanding to deepen relations between Latin America and Asia. Enrique Garcia, president & CEO of CAF - Latin American development bank, and Haruhiko Kuroda, president of the Asia Development Bank (ADB), today signed a framework cooperation agreement to promote programs and initiatives to stimulate bi-regional and inter-institutional cooperation
"CAF and the ADB are forging a strategic alliance in an international economic situation of special relevance, given the dynamism that the economies of Latin America and Asia have recently acquired and their effective response to the international financial crisis. Today the two institutions are joining forces with a view to complementing each other and moving forward with deepening bi-regional relations on key issues."
"We are called on to move forward with exchange of knowledge and experience in infrastructure, social development and finance. We have to stimulate dialogue between emerging economies, along with trade and investment," García added.
For the president of the Latin American financial institution creating this synergy with an institution such as ADB is part of CAF's catalytic role, which has transformed the institution into a valued bridge between Latin America and the rest of the world.
The ADB president said the signing was part of what ADB has termed the 2020 Strategy, a long-term plan that sets the strategic direction of the Asian bank for its operations and actions into the future. "This memorandum demonstrates once again ADB's strong commitment to strengthening its ties with Latin America and building a strategic alliance with CAF," Haruhiko Kuroda said.
Development Initiatives
The memorandum of understanding signed by CAF and ADB aims to promote the exchange of best practices in the areas of infrastructure, social development, environment and financial policies. Its objective is to cooperate in formulating initiatives on research policies, networking activities and inter-regional forums to promote knowledge management, trade and investment, as well as dialogue with the private sector and South-South cooperation between the two regions.
The CAF president also presented in the ADB offices the paper: The challenges of Latin America for Future Development. The event was attended by high-level executives of the Asian bank, Philippine government officials and members of the diplomatic corps.
ADB is a multilateral financial institution whose mission is to assist member countries in achieving development, reducing poverty and improving the quality of life of their peoples. Based in Manila, the bank was set up in 1966 and currently has 67 members: 48 from Asia-Pacific and 19 from other parts of the world.