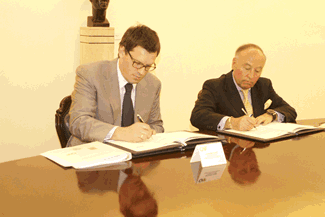 Agreement in favor of sport will benefit 120,000 children in Latin America
February 23, 2011
Partnership with Right to Play for program to educate children in the region through sport.
The initiative is supported by the Special Olympics organization.
(Caracas, February 23, 2011).- Using sport as a tool for educating children has already given satisfactory results and stimulated the inclusion of low-income communities into society. To this end, Enrique García, president & CEO of CAF - Latin American development bank - and Johann Olav Koss, president & CEO of Right to Play, signed in Caracas a partnership agreement which will initially implement the CAF Social Action Program for Sport in seven Latin American countries.
"For CAF, it is very satisfying to develop this type of project which contributes to the integrated formation and development of thousands of Latin American children, through the use of educational resources based on play and sport, reaffirming and consolidating alliances in Bolivia, Colombia, Ecuador and Peru where we have had successful experiences," García said.
The CAF president emphasized the expected social impact of the project, which aims to improve the living conditions and social integration of the beneficiary children. The multilateral financial organization promotes strategies of this type in all countries where it operates, in an effort to open opportunities for future generations and reduce the factors of inequality which persist in the region.
Koss said "I'm very pleased to begin this association with CAF and form this partnership with Special Olympics. With this agreement, we will reach children and young people in risk situations in Latin America through sport and play."
The president of Right to Play said his organization had been a pioneer in the field of sport for development. "We have brought joy and hope into the lives of over a million children."
The Social Action Program for Sport, now reinforced by the alliance, will channel funds for sports programs which form values and favor education and life skills, social integration, gender equality, health and disease prevention, along with inclusion of disabled people.
Right to Play is an international humanitarian organization which uses sport and play to improve health, develop life skills and foster peace among children and communities in some of the most disadvantaged areas of the world in over 20 countries in Africa, Asia, and the Middle East affected by war, poverty and disease.
The Special Olympics Foundation has been working in Venezuela since 1980, focusing on people with intellectual incapacity in an effort to improve their quality of life through sports training and athletic competition, giving them the opportunity to build their physical skills, develop their personalities and stabilize their feelings.