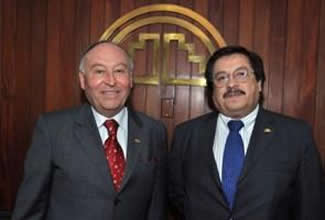 CAF president honored with "Andean Citizen" insignia
The Andean Community General Secretariat decorated CAF president & CEO Enrique García with the "Andean Citizen" institutional insignia, a distinction awarded to personalities who make significant contributions to regional integration.
The event was chaired by the interim Secretary General of the Andean Community, Adalid Contreras Baspineiro, with the presence of representatives of the Bolivian Presidency Pro Tempore of the Andean Community, the Ministries of Foreign Affairs and Foreign Trade of Peru, and bodies and institutions attached to the Andean Integration System.
After expressing his gratitude for the honor, García gave a presentation on CAF's view of regional integration which - he said – was one of the pillars of the institution, along with sustainable development.
"The only way Latin American countries can play a significant role in the global context is to act together and not separately or individually." In this respect, he emphasized the need to stimulate and consolidate all integration efforts.
With the existence of various integration schemes and bilateral agreements, he said the solution was "to be pragmatic," not leaving out the traditional schemes but promoting their convergence, as in the case of Mercosur and the Andean Community.
Turning to present-day challenges in Latin America, García said one of them was how to build a long-term agenda on issues that go beyond the macroeconomy and involve all actors in society.
Finally, he said CAF was fully prepared to support the initiatives being developed by the Andean Community General Secretariat in this period of changes and of implementation of the Andean Strategic Agenda.