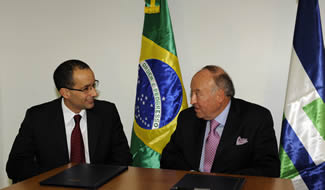 Synergy to combat impact of climate change on the region
February 25, 2011
Agreement signed with Odebrecht in Brazil to identify potential projects to reduce greenhouse gas emissions
(Brasilia, February 25, 2011).- As a contribution to activities in Latin America and the Caribbean to mitigate the impact of climate change, Enrique García, president & CEO of CAF - Latin American development bank - and Marcelo Odebrecht, president of Odebrecht, signed a Memorandum of Understanding as an opportunity to improve the sustainability of projects undertaken in the region.
"The agreement with Odebrecht promotes cooperation on identifying projects and programs with the potential to reduce greenhouse gas emissions under the Clean Development Mechanism (CDM) of the Kyoto Protocol and other schemes which exist under carbon market standards," García said.
The agreement is part of CAF's environmental strategies which, by developing innovative financing schemes, stimulate investment in the environment in the countries of the region.
For his part, Marcelo Odebrecht said, "it is an agreement by two organizations which plan to take complementary actions using the opportunities created by the mechanisms for obtaining carbon credits to build on and extend the benefits of development projects in Latin America."
With the signing, CAF and Odebrecht are strengthening their work and commitment to Latin America and the Caribbean in an effort to promote sustainable development and, in particular, mitigate the harmful effects of climate change, at the same time as coordinating new resources from successful projects under CDM and other carbon market mechanisms.
The potential projects, which will receive support as a group, relate to renewable energy, energy efficiency, mass transit, power interconnections and power generation with biogas.
The CAF chief said his institution worked on issues related to the carbon market through its Latin American Carbon and Alternative Clean Energy Program (PLAC+e).
For the last 10 years CAF has played an active role in implementing CDM projects in Latin America using methodology developed specifically for these projects, helping to promote this mechanism in the region.