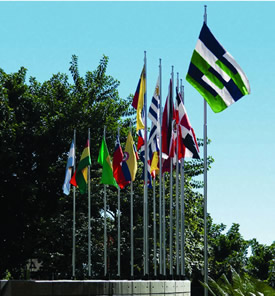 US$50 million in lines of credit for Emgesa and Codensa
February 16, 2011
The funds will be available for the corporate requirements of these companies in the Colombian energy sector.
(Bogotá, February16, 2011) .- The president & CEO of CAF - Latin American development bank - approved two revolving credit lines for US$50 million for two companies in the energy sector: Emgesa and Codensa. The companies have not expressed their intention to use these lines in the short term.
In both cases, the funds can be used to develop operating plans and strengthen competitiveness, as well as facilitating the financing of working capital and import of goods required for operations.
"CAF has facilitated these lines of credit as part of its commitment to support and maintain private initiatives which are in line with the growth and development of Latin American countries. We are confident that because of the profile and experience of the two companies the funds will have a favorable effect on their activities," the CAF director representative in Colombia, Victor Traverso, said.
Emgesa is a leading power generator and sales utility in Colombia, formed in October 1997 following capitalization of Empresa de Energia de Bogota (EEB), while Condensa, result of the same capitalization process, is the largest distributor and seller of electricity in Colombia, with over two million customers in Bogotá and Cundinamarca.