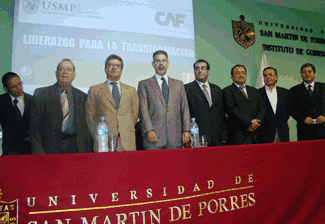 550 regional leaders from Peru to be trained in civic democratic values
March 28, 2011
CAF promotes its training program in 12 regions of the country in partnership with USMP Institute of Government.
The aim is to contribute to the governance of peoples and transformation into a more democratic and modern country.
(Lima, March 28, 2011).- CAF - Latin American development bank - and the Institute of Government of the University of San Martín de Porres (UPSMP) opened the VI CAF Leadership for Transformation Program 2011. Some 550 leaders have been invited to participate with the objective of strengthening citizen leadership in civic and democratic values ​​in 12 decentralized venues around the country.
The opening ceremony was presided by Ricardo Campins for CAF, and Javier García Corrochano and Javier Tantaleán Arbulú representing the USMP Institute of Government.
Campins said that for the sixth year running the multilateral organization was promoting its Program Leadership for Transformation in Peru, which will train over 50 natural leaders, representatives of social, cultural, indigenous, campesino and labor organizations and associations of micro and small enterprises in 12 regions of the country.
After recalling that that program began in Colombia in 2002, the CAF representative said the training was now being replicated in Bolivia, Ecuador, Peru and Venezuela, with a view to identifying natural leaders in the region and laying the groundwork for a new style of leadership, with enriched value systems ​​and equipped with the tools needed to assume the responsibilities of future leadership with ethics and a deep civic-democratic sense.
The main objectives are to identify, select and train natural leaders in order to create a transforming leadership, which manages tools and has the technical capacity to identify community needs, build consensus, and take actions which contribute to a better exercise of their citizenship and thus to the governance of their peoples and transformation into a more modern and democratic country, Campins added.
The CAF executive stressed the importance of training as a mechanism for strengthening democratic governance, improving the conditions of citizens and their environment, and taking communities along the path to achieving a better quality of life and a better dialogue between all levels of society.
The representative of the USMP Institute of Government emphasized the support that CAF provides for implementation of the training program, which this year will be held in Bagua (Amazonas), Huanta (Ayacucho), Abancay (Apurimac), Ica ( Ica), Moyobamba (San Martin), Huari (Ancash), Lima, Chosica and Huaral (Lima), Huamachuco
He said last year's program trained 550 leaders and so far about 2,730 students have graduated from 916 municipalities around Peru, with coverage of all 25 regions of the country.