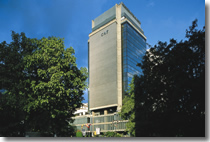 Good corporate governance practices in state enterprises
March 28, 2011
First Corporate Governance Forum for the state sector in Panama.
The event will be held on Tuesday March 29
(Panama, March 28, 2011).- The benefits and contributions of good corporate governance practices in the management of state institutions will be analyzed by the first workshop on "Corporate Governance in State Enterprises," an initiative of CAF - Latin American development bank - and the Institute of Corporate Governance (IGCP), sponsored by the National Institute of Vocational Training for Human Development (INADEH).
The event – with the participation of senior management representing over 30 public sector companies – includes a panel of experts on national and international corporate governance, notably: Adolfo Castejón, CAF public policy and competitiveness executive (Venezuela), and Ruben Dario Avendaño, deputy director of institutional relations at Empresas Publicas de Medellín (EPM) who will present the successful case of Colombia, a model of good corporate governance practices implemented in public companies.
The forum aims to raise awareness of the benefits of adopting good corporate governance practices in state enterprises, and review the situation in Panama and the important progress made in public sector institutions and joint ventures.
IGCP is the leading center in Panama for training, dissemination and research on corporate governance. For its part CAF, in line with its commitment to sustainable development and regional integration, has been promoting a program to introduce best corporate governance practices at regional level since 2004.