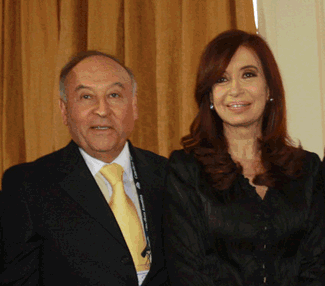 Loans to strengthen integration infrastructure in Argentina
March 03, 2011
The president of Argentina announced loans from CAF, World Bank and IDB for a total of US$ 3.50 billion during a ceremony in Casa Rosada.
During his visit to Argentina, the CAF president met with the Argentine president and the ministers of Federal Planning, Public Investment and Services, and Economics and Public Finance.
(Buenos Aires, March 3, 2011) .- Cristina Fernandez de Kirchner, president of Argentina, announced today at a ceremony in Casa Rosada the signing of agreements for loans granted by CAF - Latin American development bank - IDB, and the World Bank for a total of US$3.50 billion.
During his visit to the country CAF President & CEO Enrique García met with Argentine President Cristina Kirchener, Minister of Economy and Public Finance Amado Boudou, and Minister of Federal Planning, Public Investment and Services Julio De Vido.
The CAF chief said "the transactions announced today include integration infrastructure projects, aimed at improving the competitiveness of geographically remote areas, contributing to economic growth and raising the quality of life of low-income sectors in these regions which are the most vulnerable."
Between 2005 and 2010 the multilateral financial institution approved over US$ 3.70 billion in favor of Argentina.
"CAF has supported the Argentine government's strategy on investments in sectors which stimulate the country's growth." García confirmed the financial institution's commitment to the development of Argentina. "Our interest is in supporting projects in both the public and private sectors, especially operations in the areas of economic infrastructure and integration, energy, social and environmental development as well as the financial and corporate areas."
The relationship between CAF and Argentina has strengthened exponentially since the nation became a shareholder in 2001. With the amendment to the Establishing Agreement, the financial institution opened membership to all Latin American and Caribbean nations with the same rights as the founders. As a result, in 2007 Argentina formalized its share subscription and became a full member of the institution.