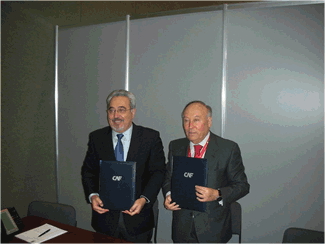 Paraguay receives support for social and educational projects
March 25, 2011
CAF and the Paraguayan Finance Ministry sign two technical cooperation agreements.
The first relates to Strengthening Institutional Mechanisms for prevention and treatment of the problem of Human Trafficking.
The second agreement covers Priority Actions for Development of Rural Education.
(Calgary, March 25, 2011).- Enrique García, president & CEO of CAF - Latin American development bank - and Paraguayan Finance Minister Dionisio Borda signed two non-reimbursable technical cooperation agreements during the IDB Annual Meeting in the Canadian city of Calgary. The CAF funds will be used to support two programs: one for prevention and care of victims of human trafficking, and a second which focuses on improving education in rural areas. During the signing García said "the two grants are part of the CAF strategy of stimulating initiatives which promote greater equity and social inclusion and, by improving education levels, contribute to creating new opportunities and reducing poverty in Latin America."
The project to strengthen institutional arrangements for the care for victims, prevention, protection and punishment of the crime of human trafficking and the social reintegration of its victims - mostly women and girls - is led by the Women's Secretariat of the Presidency of Paraguay. The aspects covered include supporting the reintegration of women into working life, creating inter-institutional networks to strengthen existing ones and expand them into the interior of the country. The cooperation funds will also be used to prepare a manual on care for victims, and the institutional strengthening of the Secretariat to improve project management and auditing.
The second agreement - Priority Actions for Development of Rural Education - will be executed by the Ministry of Agriculture and Livestock to prepare a national development strategy for the agricultural education system applicable to rural schools located in campesino settlements, and to increase coverage of agricultural education. At the same time, the facilities of 19 rural schools will be refurbished along with a donation of equipment and information systems.