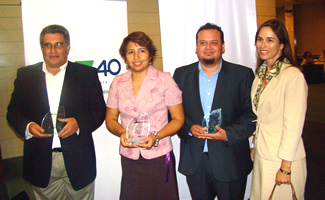 Recognition for entrepreneurs
Lima, March 2010.- Three entrepreneurs won the V Business Plan Competition Business in Development Peru 2010 organized by the Invest Institute with CAF support. The competition identifies business plans and projects with high growth potential and capital needs, with a view to linking them up with potential investors through the virtual platform of the Business in Development Network and the Angel Investors Network Peru.
First place went to Peruvian Cooking of Dixie Castaneda, who won US$2,000, advice on her business plan from the Investment Institute, and a trip to Bogota (Colombia) to take part in the regional competition. Her company, which markets a line of jams, has achieved a differentiation in taste and price competitiveness. Her products have market acceptance in innovative formats such as 15 gr sachets and 30 and 48 gr glass jars.
Second place in the contest went to Acuícola Mares del Sur SAC (Acuisur) of Hernan Garrido-Lecca, a company involved in sustainable farming of the Alga Gigartina Chamissoy seaweed. This entrepreneur has developed the product Suginori, a high value algae with heavy demand in Asian countries. He is in process of implementing intensive production. The company received US$ 2,000, and advice on the business plan by the Investment Institute.
Finally, third place or honorable mention went to Comparabien.com of Alfredo Ramírez, who created a website where users can make free product comparisons by price, cost and benefits to make better purchasing decisions. Comparabien analyzes and publishes all offers in the market for selected product categories and provides a quick and easy way to compare them. The website is an effective way of guiding new customers toward companies that provide the goods or services they need. These companies pay a fee for each customer referred.
The business plan competition is targeted at the small business segment and entrepreneurs with business ideas in an international context. The competition is held simultaneously in four South American countries (Bolivia, Argentina, Colombia and Peru) and four countries in Asia and Africa.
Eleonora Silva Pardo, CAF director representative in Peru, said the CAF Competitiveness Program supports the event as part of initiatives to improve regional competitiveness and entrepreneurship. "Our aim is to contribute to the sustainable economic development of countries by promoting dynamic enterprises, and reducing poverty by stimulating the economy and generating jobs."