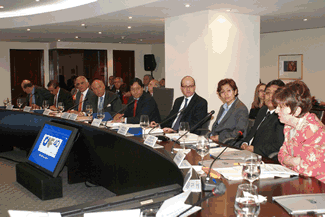 US$400 million loan approved for construction of Panama City Metro
March 15, 2011
CAF approves US$400 million loan for the Republic of Panama for construction of Metro Line 1.
One of the objectives of this project is to improve the quality of life of the citizens of the ​​Panama City Metropolitan Area who spend a long hours traveling every day.
(Caracas, March 15, 2011) .- Panamanian economic growth in recent years has generated an expansion of its capital city without adequate urban planning. For this reason the national government, under Strategic Plan 2010-2014, has given priority to construction of Metro Line 1 among a set of actions to improve mobility. In this respect, CAF - Latin American development bank - approved a US$400 million loan to partially finance construction of the first line of a future mass transit network for the city.
Enrique García, president & CEO of the financial institution, said "by supporting this project, CAF aims to make a significant contribution to improving the quality of life of Panamanians, especially in areas far from the city center. The Metro will cut travel time, contribute to mitigation of pollution generated by current modes of transport, and facilitate other activities which take place in the city with a positive impact on competitiveness levels."
García added that CAF support for Panama City, with 46% of the country's population, is reflected in the granting of funds for execution of major projects such as the Panama Canal Expansion, along with non-reimbursable funds for the conceptual design and definition of the specifications of the Metro.
In the last five years, CAF has approved operations totaling US$1.312 billion for Panama. Specifically in 2010 the Bank approved two loans with positive environmental impact for the country: the Panama City and Bay Sanitation Project, and the Investment Program for the Water and Sanitation Sector in Panama province.
Metro Line 1 will have an approximate length of 13.7 kilometers. The first phase will operate with 11 strategically located stations. The route runs from the northeast of the city in the ​​San Isidro sector to Albrook station in southwest. The total cost of the project to be executed by the Panama Metro Secretariat is estimated at a total of US$1.805 billion, of which the CAF loan represents 22%.