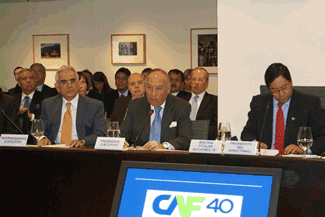 Uyuni-Oruro highway in Bolivia to be built with CAF loan
March 15, 2011
The project, part of the Economic and Social Development Strategy led by the Bolivian government, received an approval of US$104.3 million from the Latin American financial institution.
The project will strengthen Bolivian tourism development.
(Caracas, March 15, 2011).- In the conviction that reducing poverty requires linking various regions to stimulate their productive, trade and tourist capacities, CAF - Latin American development bank - approved a US$104.3 million loan for the Pluri-National State of Bolivia for construction and upgrading of a highway under the national economic and social development plan. The sections involved are Uyuni-Huancarani in Potosi department, and Huancarani-Cruce Condo "K" in Oruro, a total of 167 kilometers.
Enrique García, CAF president & CEO, said the route was considered critical for integrating various mining, agricultural and tourism areas with the transoceanic corridors. "Not only do we support the Bolivian government's National Development Plan, whose goal is to reduce poverty levels, but CAF is also strengthening regional integration since this project will open an alternative route to the West-South corridor which runs from the border with Peru to northern Argentina, cutting the distance between the two regions by approximately 90 kilometers," García said.
"The project will also create new opportunities for people in the highway's area of ​​influence, one of the country's poorest regions, with the introduction of a competitive transportation system which will facilitate the flow of tourists and the transfer of people and agricultural and mining products to the free zones of Chile and Peru," the CAF president said.
García concluded that – in addition to the advantages described – the highway will facilitate access to Salar de Uyuni, one of the country's most important sources of income because of its high tourism potential and lithium reserves.
The project, which will be executed by the Bolivian Highway Administration (ABC), requires a total investment of US$122.25 million, of which 85% will be financed by a CAF loan and the remaining 15%, equivalent to US$17.9 million, will be covered by local matching funds.