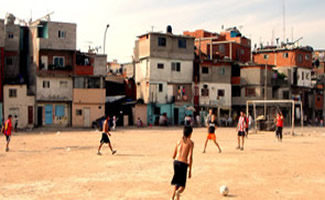 Competition launched to improve conditions in informal settlements
April 27, 2011
The Latin American financial institution announces the first competition to improve the quality of life of poor Latin Americans.
The competition is open to organized communities, NGOs, municipalities and professionals from the 18 CAF shareholder countries.
The deadline for entries is July 29, 2011.
(Caracas, April 27, 2011) .- With different names – tugurios, favelas, barrios, or villas – informal settlements or shantytowns are home to a large part of the Latin American population with limited economic resources and little opportunity to escape their situation. As a way of supporting the search for solutions to this problem, CAF – Latin American development bank – is launching the First International Competition for Urban and Social Development Projects in Informal Settlements as an opening event on the new web subportal dedicated to this problem:
http://desarrollourbano.caf.com
.
"The problems related to urban development are high on the agenda of the social projects which CAF promotes. Generation of knowledge on the upgrading of informal settlements – widespread in urban centers in developing countries like ours – can help solve the housing problem, and offers an opportunity to improve the quality of life and reduce social inequalities for poor Latin Americans," CAF President & CEO Enrique García said.
García said the competition aimed to open a space through which communities in informal settlements in Latin America could submit proposals for urban and social projects focused on improving the quality of life of their inhabitants. The deadline for entries is July 29, 2011.
CAF invites local governments, NGOs, organized communities and professionals (architects, city planners, landscape architects, engineers, etc.) from the 18 CAF shareholder countries to submit entries. All information on the competition can be found at http://desarrollourbano.caf.com.
The projects submitted must relate to settlements in one or more of the shareholder countries of the financial institution in Latin America: Argentina, Bolivia, Brazil, Chile, Colombia, Costa Rica, Dominican Republic, Ecuador, Jamaica, Mexico, Panama, Paraguay, Peru, Trinidad and Tobago, Uruguay and Venezuela.