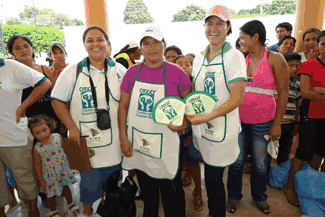 Local currency financing for development of Bolivian rural microfinance sector
April 21, 2011
The multilateral institution is offering a new type of local currency lending targeted at microfinance institutions, aimed at improving management of exchange risk exposure and expanding access for micro, small and medium enterprises (MSMEs).
The new credit option is part of the global support that CAF has been offering the microfinance area for 15 years through equity investments and various loan facilities.
(La Paz, April 21, 2011).- To reinforce its backing for the development of microfinance sector in Bolivia, CAF - Latin American development bank - began a program of local currency financing in favor of the Credit with Rural Education Civil Association (CRECER), an organization which backs development initiatives for women from low-income sectors in rural, suburban and urban areas.
"CAF aims to meet the financing needs of micro, small and medium-sized enterprises in the country by creating solutions tailored to their requirements and supporting specialized institutions which, based on their financial structure, prefer local currency loans to reduce potential exchange exposure," CAF representative in Bolivia Emilio Uquillas said.
For CRECER general manager José Auad, the loan confirms the credibility and responsibility of Development Finance Institutions (DFIs) in the view of multilateral financial organizations such as CAF. The loan will expand the institution's geographical coverage and portfolio and improve the matching of assets and liabilities in local currency.
Founded in 1999, CRECER provides financial and educational services to women who wish to improve their income and the general health of their family. Its portfolio currently holds over 109,000 customers organized into 9,203 community banks, operating through nine regional offices and 53 agencies, located mainly in rural and suburban areas.
In August 2010, CAF announced this new form of financing with a Bs.35-million line of credit for the Bolivian microfinance sector to provide medium-term loans (up to 3 years) in local currency with semiannual repayments at competitive rates. The objective is to meet the needs of sectors which traditionally have limited access to credit.
This facility, which CAF is implementing for the first time in Bolivia, is part of a local currency program which the institution has successfully operated in Peru for US$34 million, Mexico for US$10 million, and Colombia US$20 million.
Bolivia is one the countries in Latin America with the best conditions for microfinance, according to the "Microscope" study financed by CAF and published by The Economist Intelligence Unit (EIU).