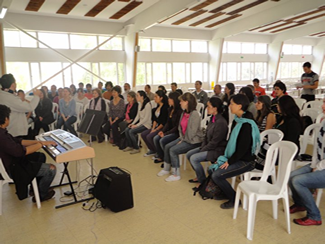 Over 400 Colombian singers raised their voices under the hand of maestro Grau
April 20, 2011
CAF organized "Coro Voces Latinas" workshop in Cali and Bogota to train over 400 artists in choral technique.
The workshop, led by prestigious maestro Alberto Grau, will end with a concert in September
(Bogotá, April 20, 2011).- Bogota and Cali were venues for the "Coro Voces Latinas" workshop - Colombian chapter, a music education initiative promoted by CAF - Latin American development bank - as part of its Social Action for Music Program (PASM), sponsored by the Colombia Choral and Orchestral Corporation, Fundarboledas, and the Cali Departmental Institute of Fine Arts.
"Without doubt the musical training sessions held in Cali and Bogota were an effective tool for promoting cultural exchange between peoples through music which strengthens core values ​​such as teamwork, leadership and knowledge implementation," CAF director representative in Colombia Víctor Traverso said.
The choral training and practice sessions in the children, youth and grand masters categories were conducted by a group of experts headed by distinguished Venezuelan composer and maestro Alberto Grau, founder of Schola Cantorum de Caracas, vice president of the International Federation for Choral Music (1982-96) and winner of major international awards including Guido d'Arezzo in 1974.
During the sessions - which covered techniques of direction, vocal, choral practice and repertoire assembly - about 400 promising talents received first hand training and made progress with the assembly of Pergolesi's Stabat Mater for children's choirs and the Magnificat of Carl Philippe Emanuel Bach for mixed choirs, to be performed at a concert in Bogota in mid-September.
The event is part of the CAF Social Action Program for Music (PASM), an initiative which has supported since 2000 the social integration of children and young people through choral and orchestral practice, aiming for continuity over time as a sustainable mechanism for strengthening the cultural competitiveness and integration of Latin America.