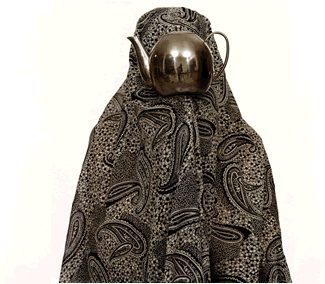 CAF Artespacio presents two photographic series by Shadi Ghadirian
May 10, 2011
The pictures of the famous artist take a profound look at the everyday life of women in Iran and reflect with intelligence and humor some of the contradictions in traditional societies.
(La Paz, May 10, 2011).- CAF Artespacio, cultural space of the Latin American development bank and Acción Cultural, headed by Bolivian plastic artist Sandra Boulanger, bring back to the scene an exhibition of photographs by the Iranian artist Shadi Ghadirian. The two photographic series Untitled Qajar and Aka, Domestic Like Everyday reflect the daily life of contemporary women in Iran.
Shadi Ghadirian was born in 1974 in Tehran and studied photography at Azad University. She is now one of the most renowned and impacting photographers on the international scene and certainly one of the artists with greatest projection in contemporary art.
Her work is closely linked to her identity as a Muslim woman, through which she questions the conditions of life and role of women in traditional society and challenges censorship, religion and - in a way - modernity.
Her works have been exhibited in museums and galleries in Australia, United States, Europe and the Middle East and mentioned and featured by the New York Times, Daily Telegraph , BBC and Photography Now, among others.
Shadi Ghadirian always depicts contemporary Iranian women in her pictures. The photographs in series and individually are worked in generally contradictory overlapping layers; she confronts the present with the past.
The "Untitled Qajar" series, on a first level presents a series of studio portraits of women dressed in the style of the Qajar dynasty in the 19th century. The backgrounds are similar to those in photographic studies of the time. On a second level however she adds modern dissonances to the images, such as a radio, newspaper, or a bottle of soda; with this she goes beyond the descriptive and achieves the symbolic.
In Aka, Domestic Like Every Day series, the color photographs represent the figure of a woman wrapped in patterned fabric whose face is replaced by a common household item, for example, a cup of tea, a broom, a pot or pan. In this series, the recently married Shadi Ghadirian confronts domestic life and - surprised by such homely marriage gifts - presents a series dedicated to women in traditional society.
The exhibition will be open in CAF Artespacio, Avenida Arce No. 2915, esquina Clavijo (San Jorge), until July 1 from 9.00 to 12.00 and 14.30 to 18.00. Admission free.