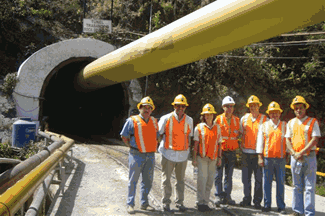 CAF monitors progress of works of Olmos Project
May 25, 2011
The Latin American financial institution cofinances the transfer works of the Olmos Project: Trasandino Tunnel and Limón Dam
The megaproject will open up 38,500 hectares of land for farming, creating up to 25,000 direct and indirect jobs to benefit residents of the north of the country.
(Chiclayo, May 25, 2011).- During a visit to the city of Chiclayo, CAF director representative in Peru Eleonora Silva Pardo met with the Lambayeque regional president Humberto Acuña Peralta, who accompanied her on a tour to inspect the progress of construction of the Olmos Hydroelectric Project, which will bring 38,500 hectares of farmland into cultivation and create up to 25 thousand direct and indirect jobs.
"This project is one of the most emblematic infrastructure projects financed by CAF in Peru. It is a transcendental project for the development of the Lambayeque region, and will lead to a substantial change in the lives of the population," Silva Pardo said.
During the tour, Silva Pardo and Acuña Peralta were accompanied by the general manager of the Olmos Transfer Consortium, Juan Andres Marsano, and the general manager of the Olmos Tinajones Special Project - PEOT, Francisco Gayoso Zevallos.
The delegation toured the Eastern Front of the project where they inspected completion of the construction of the 44-million m3 Lemon dam, while on the Western Front they were shown the 11 km drilled with the TBM (Tunnel Boring Machine). Following this advance, as of last Sunday, almost 18 kilometers of the Trasandino Tunnel had been excavated with only 1.39 kilometers to go.
The CAF director also met with the president of the Santo Domingo de Olmos Campesino Community, Jose Grimaldo Monja Benítez, who said the residents of his jurisdiction were "allies of the irrigation project" because they believe it represents development for their community.
The CAF director concluded "we are pleased with the progress of the works and having contact with the leaders of the beneficiary populations. It is a great opportunity and an interesting challenge for the region, because it is using water with advanced technology. The size of the project is astounding not only in terms of development, but also because it is an important source of employment for the entire region."