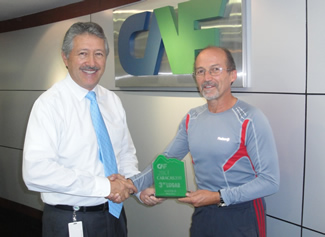 Ecuadorean athlete honored for successful participation in CAF Caracas 2011 Marathon
May 25, 2011
CAF presents trophy to Ecuadorian coach and athlete Raul Ricaurte
(Quito, May 25, 2011).- Ecuadorian athlete Raul Ricaurte was honored at the representative office of CAF - Latin American development bank - in Ecuador for his participation in the CAF Caracas 2011 Marathon, where he came third in the Master D category on the 21K route.
CAF director representative in Ecuador Hermann Krützfeldt who presented the trophy said "the Caracas 2011 Marathon initiative was part of the celebration of our 40th Anniversary aimed at stimulating sport as a tool for integrated development and strengthening integration."
Ricaurte thanked CAF for the trophy and said he was happy to have taken part in an event which brought together over 3,500 runners from over 20 countries.
Raul Ricaurte is a prominent track coach who recently competed in the French marathon, and in 2000 was named best national coach by the Ecuadorian Athletics Federation following international participation with Silvio Guerra.
Caption: left to right: Krützfeldt Hermann, CAF director representative in Ecuador, and athlete Raul Ricaurte.