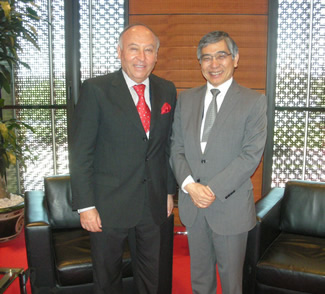 Joint technical cooperation program agreed with Asian Development Bank
May 03, 2011
Following up the strategic alliance formed in January, the two development banks signed an agreement in Vietnam to develop a joint technical cooperation program aimed at deepening relations between Latin America and Asia.
(Hanoi, May 3, 2011). During the participation of CAF President & CEO Enrique García in the Annual Governors Meeting of the Asian Development Bank (ADB) in Hanoi, Vietnam, the two institutions signed an agreement to develop a joint program of non-reimbursable technical cooperation grants to promote strategic activities which deepen relations between Latin America and Asia.
Specifically, the agreement promotes the holding of bi-regional forums and seminars, exchange of best practices in the areas of infrastructure, social development, environment and financial policies; research and studies; and professional exchange programs, among others.
The presidents of CAF and ADB agreed that their regional institutions shared the mission of contributing to sustainable development and integration, and stressed the importance of making joint efforts in favor of mutual complementation and bi-regional relations on key issues such as trade and investment, horizontal cooperation and exchange of knowledge, experiences and best practices.
They underlined the dynamic that the economies of Latin America and Asia have shown in recent years, their effective responses to the international economic situation and the enormous potential for complementation and cooperation.
"There is no doubt that this is a relationship and alliance with a vision for the future," they concluded.
The Asian Development Bank (ADB) is a multilateral financial institution set up in 1966 in Manila, Philippines, owned and financed by its members. The bank has offices in 29 countries of the region.