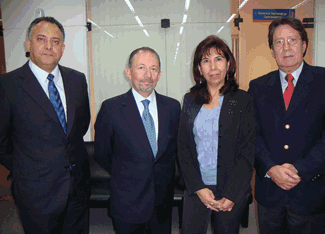 Loan agreement signed with Banco Union sign to support SMEs in Bolivia's productive sector
May 24, 2011
The $5 million loan was approved after a positive financial analysis of the bank.
Banco Union SA will use the funds to finance productive projects executed by SMEs and microenterprises.
(Santa Cruz, May 24, 2011).- To support the economic and social development of micro, small and medium-sized enterprises in the Bolivian productive sector, CAF - Latin American development bank - and Union Bank SA signed a $5 million revolving credit agreement, which the Bolivian institution will use to finance undertakings through loans, letters of credit, endorsements and guarantees.
The agreement was signed by CAF director representative in Bolivia Emilio Uquillas and Union Bank general manager Marcia Villarroel Gonzales.
"This operation is part of the development bank's policy of facilitating access to capital by financial institutions in our partner countries and is in line with the permanent support provided to the banking sector – traditional banking or microfinance - with the objective of strengthening their management and stimulating creation of better products and services for the population," Uquillas said.
Union Bank general manager Marcia Villarroel said his institution had refocused its business strategy toward the social area with emphasis on developing SMEs and micro-credit in the productive sector. He added that since 2006 Union Bank had enjoyed positive indicators of profitability and solvency, outperforming the banking system, thanks to higher financial income based on a significant increase in bank assets, as well as non-financial factors, resulting in greater efficiency.
CAF approved the line of credit after a financial analysis of the bank found that the entity had significantly reduced its bad debts and gradually begun to diversify its portfolios giving priority to the SME and micro finance sector. Its credit rating was also upgraded to AAA, reflecting the 83.2% interest held by the General Treasury of the Nation.