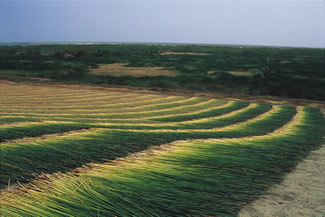 New agreement promotes clean energy and climate change mitigation in Argentina
May 24, 2011
CAF undertakes a new operation in the Argentine carbon market.
The Puerto Madryn I and II wind farms project is being developed by the Argentine company Emgasud Renovables, SA
(Buenos Aires, May 24, 2011).- As part of the actions taken by CAF - Latin American development bank - to mitigate the effects of climate change, the financial institution signed an agreement with EMGASUD Renovables SA to develop and market greenhouse gas reductions.
"At CAF we promote projects which contribute to sustainable development and cleaner energy generation, as is the case of Puerto Madryn Wind Farms I and II, developed by Renewable Emgasud in Chubut Province," CAF director representative in Argentina Álvaro García said.
The Latin American development bank will structure, develop and market greenhouse gases emission reductions for these wind energy projects under the Clean Development Mechanism (CDM) of the Kyoto Protocol and other emission reduction markets.
Aside from moving towards sustainable development and continuing the fight against climate change, one of the benefits that this operation brings to the project is the positive impact of the sale of the carbon emission reduction credits on financial indicators and profitability.
Emgasud SA is a leading provider of energy solutions based on the use of latest generation technologies in thermal equipment and an important investor in renewable energy projects in the country.
The company distributes natural gas in the Buenos Aires localities of Dolores, Pinamar, Cariló, Valeria del Mar, Ostende and Santa Clara del Mar; transports natural gas through the Patagonia pipeline - which it also built - to the cordillera region of Chubut province; generates electricity in Buenos Aires, Entre Rios and Chubut provinces; and meets the heavy industrial demand for energy by marketing natural gas and electricity through its Energy Enersud subsidiary.