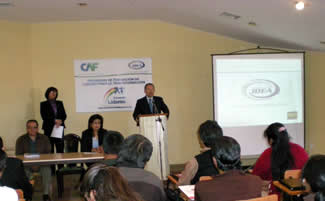 New training cycle for leadership and governance in Bolivia
(La Paz, May 13, 2011).- Based on an academic partnership with two national education and training institutions, CAF - Latin American development bank - announced the start of its Leaders for Transformation and Management and Governance Policy programs for 2011. The two academic cycles were opened on Friday May 13 in the cities of El Alto, La Paz, Santa Cruz, and Riberalta. Courses will open in cities in other departments in the near future.
The Leaders for Transformation Program, implemented by the Idea Foundation under a technical cooperation agreement revalidated this year for the seventh year running, will have 600 participants from civil society organizations which selected them for their natural leadership skills.
The program is based on the key components of social leadership, without neglecting aspects of public management, human rights, democracy and communication, in 13 academic modules given by outstanding professionals.
The objective is to identify and select natural leaders to strengthen their national vision and democratic values and empower them to transform the political, social and economic situation of Bolivia. The program ends in October 2011.
The XI Program on Governance and Political Management also began its activities. The program was designed by CAF. The academic part was developed by the School of Political Management of George Washington University, and then adapted to the national context by Universidad del Valle (Univalle). The objective of this 11th event is to graduate 240 new participants after six months training in cities in seven departments.
Between 2001 and 2010, the Latin American financial institution met its target under the scheme by training over 1,700 leaders who work in key positions in the public and private sectors in urban and rural areas in eight departments and 188 municipalities in Bolivia.
This program is given by prestigious universities in Argentina, Bolivia, Colombia, Ecuador, Mexico, Panama, Peru and Venezuela, with the aim of strengthening democracy and governance in the countries of the region.