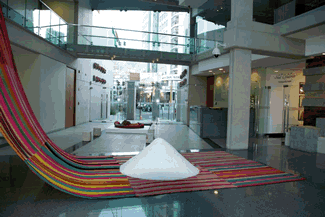 Presence in V Long Night of Museums
May 25, 2011
Works of Bolivian artist Gastón Ugalde and Iranian photographer Shadi Ghadirian were exhibited for the large numbers of public who visited dozens of cultural venues in one night.
CAF Artespacio was part of the circuit of galleries and art spaces in the city.
(La Paz, May 25, 2011).- For the second year running, CAF - Latin American development bank - opened its doors to the people of La Paz as part of the fifth Long Night of Museums, activity organized by the of La Paz City Government on May 21.
During the event, over 500 people enjoyed two parallel shows: Andean Images by the well known Bolivian artist Gastón Ugalde and the photographs of Iranian artist Shadi Ghadirian now on show in the CAF Artespacio gallery.
The Ugalde exhibition consisted of three installations and three video projections and photographs of the impressive Salar de Uyuni and the Tiwanaku culture. The montage showed the artist's interpretation of both themes, through installations of Andean Pullus in large format montage, gargoyles sculptured in salt and woven.
Visitors also appreciated the two photographic series by Shadi Ghadirian in the Artespacio gallery. The photos show the clear and well defined contemporary political position of a young woman who lives and works in a traditional, conservative society in the Muslim world.
The latest guided tour circuit covered 70 cultural venues: municipal museums, national and private art galleries, cultural centers and spaces related to the arts and culture in the center, south area, Sopocachi and Miraflores, which for over seven hours offered performances by well known artists in all genres and exhibitions of cultural products.
During the event, CAF announced new cultural surprises for 2012, always highlighting the work of Bolivian artists.