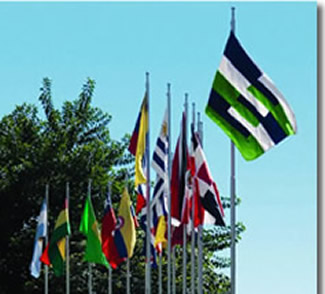 Successful debut on Panamanian market
May 06, 2011
The Latin American financial institution announced placement of US$40 million on the local market, the first issue by a multilateral in Panama.
(Caracas, May 6, 2011) .- "Contributing to the development of local capital markets in Latin America is part of our work since it improves the efficiency and competitiveness of the financial system and strengthens its stability," Enrique García, president & CEO of CAF - Latin American development bank - said, after announcing the US$40 million issue on the Panamanian market.
This is the first issue by a multilateral institution in this market and one of the largest ever in Panama in terms of amount and term. The investors who participated in the transaction were banks, insurance companies and other organizations from the public and private sectors. HSBC acted as structuring agent and underwriter.
The CAF president said "with this operation we are making an efficient contribution to the development of Panama, a country with a diversified economy whose financial sector is one of the most important for economic growth, along with transport, commerce and construction."
Confirming its presence on the most demanding capital markets, the president of the Latin American financial institution said CAF had doubled its public offerings in 2010 with nine issues on the European, Japanese, Swiss, Uruguayan, Yankee markets and the exclusive Uridashi retail market for a total of over US$2.00 billion.
The institution's ratings are among the highest of Latin American debt issuers, based on recognition of its excellent financial indicators, solid legal structure and permanent commitment to shareholders. "Without these high credit ratings, our successful market presence would not be possible," Garcia concluded.