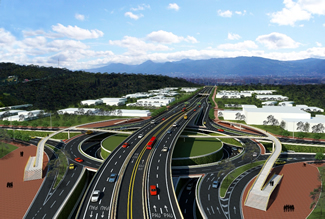 Urban Expressway Program in Bogotá, one of the three most important infrastructure projects in Latin America
May 10, 2011
A study by consulting firm CG/LA Infraestructure LLC found that the projects backed by CAF, estimated at US$2.60 billion, is the most important in Colombia today.
(Bogotá, May 10, 2011) .- The Urban Expressway Program in Colombia is one of the three most important in Latin America, according to CG/LA Infraestructure LLC. The consulting firm evaluated 100 projects around the region, and 25 more in Brazil, and announced its conclusion at the ninth Annual Leadership Forum 2011 being held in Rio de Janeiro until May 11.
"We are pleased that the Urban Expressway Program - which we have been promoting since the pre-feasibility studies - is a project of such importance and impact in the region, which is an additional reason for continuing to press for its start up in the near future not only in Bogota but in other major cities," CAF director representative Victor Traverso in Colombia said.
The selection was based on productivity, improvement in competitiveness, potential for creating jobs and businesses, and technological innovation using intelligent transport systems.
The Urban Expressway Program in Bogotá is currently in the stage of hiring consultants as part of the structuring team for the first concession, which will prepare the feasibility studies needed to begin the work. The pre-feasibility phase showed the project to be not only viable but also critical for improving mobility in the city.
In Medellin and Cali, discussions have begun with local authorities on the possibility of replicating the project, which is fundamental for the country's economic and development dynamic, especially after the devastating effects of the rainy season on road infrastructure.