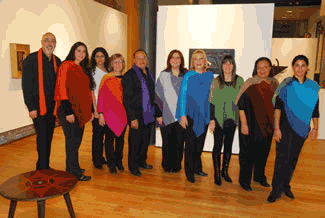 Uruguayan children join "Latin Choral Voices" in a moving performance
May 31, 2011
Sponsored by CAF, the Social Action Program for Music (PASM) held a workshop for children and young people from the Uruguay Choir School, who showed their talents in a moving vocal performance.
The work is a significant contribution to social integration.
(Montevideo, May 31, 2011).- Centro Cultural Simón Bolívar was the venue for the performance by the Uruguay Choir School, directed by maestro Víctor Mederos, at the final event of the Latin Choral Voices workshop, an initiative promoted by CAF - Latin American development bank – as part of its Social Action for Music Program (PASM).
"It was gratifying to attend this concert which, as well as moving the public with the children's talent and musical sensitivity, showed that our work has not been in vain, and motivates us to continue promoting musical education as a tool for social integration, teamwork and acquiring new skills," CAF director representative in Uruguay Gladis Genua said.
The concert featured a performance by the Ayre Youth Choir, Cantemus Choir and Quantum Choral Group, where children and young people displayed through song what they had learned in the workshops with Venezuela instructors Pedro Antonio Silva (choral direction) and Luis Gabriel Cabrera (vocal technique).
The CAF Social Action for Music Program is an initiative which since 2000 has supported the social integration of children and youth through choral and orchestral practice as a sustainable mechanism for strengthening the competitiveness and cultural integration of Latin America.
The Uruguay Choir School, directed by professor Victor Mederos, is part of the Uruguayan Children's and Youth Orchestra System Foundation, which promotes music as a tool for development and growth, offering training in vocal technique, musical literacy, and group practice.
The president of the Children's and Youth Orchestra System Foundation, maestro Ariel Brito, stressed the importance of CAF's cooperation in achieving the objectives of the Uruguay Choir School. "Our goal is to become a permanent source of opportunities through music by encouraging development of talents and creating enthusiasm and the prospect of a successful future."