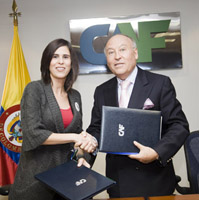 Children bring CAF and Colombianitos together
June 03, 2011
With non-reimbursable funds, the Latin American financial institution supports efforts of Colombianitos to improve the quality of life of children at risk.
(June 3, 2011).- An agreement that aims to improve the quality of life of children and young people at risk using sport as a tool for social prevention and rescue was signed today by Enrique García, CAF president & CEO, and Ana Arizabaleta, executive director of Colombianitos Foundation.
"We have seen important progress in the social reintegration of children and young people from disadvantaged populations of Latin America who have had access to the Social Action Programs which CAF has been promoting for almost a decade through music and sport," García said.
The CAF Social Action Program for Sport, which currently operates in several Latin American countries with Right To Play, has the objective of channeling funds into sports programs that favor ​​formation of values, education and life skills, social integration, gender equality, health and disease prevention, as well as inclusion of people with special capacities.
The Foundation's executive director, Ana Arizabaleta, said "this work is in line with the effort the Foundation has been making in the sports area, which gives us a chance to make a real contribution to society."
The Colombianitos foundation was set up in 2001 by a group of Colombian professionals residing in Atlanta, United States. It has international recognition as a nonprofit organization concerned with children and youth in Colombia and currently runs music and dance programs which benefit over 350 children in the country.