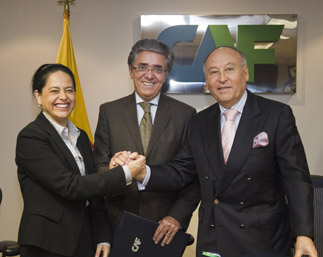 Funds to strengthen Colombian transport sector
June 03, 2011
The multilateral financial institution signed a technical cooperation agreement with the Ministry of Transport and INCO.
The support will be provided through grants designed to stimulate the analysis and planning needed for reorganizing the Colombian transport sector, especially the transformation of INCO.
(Bogotá, June 3, 2011).- Enrique García, president & CEO of CAF - Latin American development bank, signed a non-reimbursable technical cooperation with the Ministry of Transport and the National Institute of Concessions (INCO) for US$540,000, to be used for analysis and planning of the institutional reorganization of the transport sector, where the transformation of INCO into the National Infrastructure Agency (ANI) is one of the most important objectives.
"The need to develop and adapt infrastructure to improve response to the rainy season emergencies creates new requirements for infrastructure and contracting in Colombia; for this reason, the government considered that it was the right time to work on reorganization of the transport sector, reviewing priorities and weaknesses with a view to the future. CAF joins these efforts of the Colombian governments as a part of its ongoing commitment to the country's development," CAF President & CEO Enrique García said, during his visit to the country where he backed various social and economic agreements.
"What we are doing is to give continuity to a process on which previous governments have been working; when this process ends we are sure the institution will be a model of national efficiency and quality," Transport Minister Germán Cardona said.
The funds granted to the Ministry of Transport will focus on contracting consulting services including diagnosis of the department and its related bodies, accompanied by seminars and workshops to formulate better policies.
In this process, Inco and the Transport Ministry will also contribute pooled funds for a total of US$460,000, which are intended exclusively for consulting services.
The contracting, which is expected to begin shortly, will improve the institutional and sectoral coordination scheme, the design and organization of ANI, and the institutional strengthening of the sector.