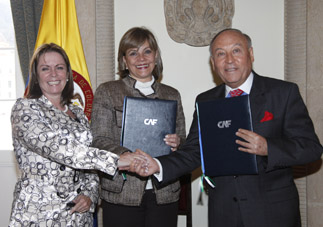 Improving education to combat inequality
June 03, 2011
Computers for Peace program to be implemented in Colombia following agreement between MEN, FAN and CAF.
The partnership will help over 4,000 children gain access to a more comprehensive and inclusive early childhood education.
(June 03, 2011).- CAF - Latin American development bank - signed a technical cooperation grant for $304,000 in favor of the Computers for Peace project of the Foundation for the Care of Children (FAN) and the Ministry of National Education (MEN) which seeks to improve the care of 4,218 children aged under six living in vulnerable areas. The children will be integrated into the MEN institutional environment program by implementing Information and Communication Technology (ICTs) as tools to enhance skills and improve learning.
"Access to quality education by all sectors of the population is fundamental for combating inequality, which is the great future challenge for Latin America. This requires not only good academic programs and qualified staff but also physical and technological infrastructure appropriate for public education institutions," CAF President & CEO Enrique García said.
The heart of this partnership is establishing an early childhood education in Colombia with quality and equality by implementing ICTs as a means of building capacities and improving learning for children.
"We believe this program is a key initiative for strengthening education. What is important here is to expand the program with support from our Ministry around the country. It is a wonderful project which we will support with all our energy," Education Minister María Fernanda Campo said.
The agreement - signed by CAF President García, FAN director Luz Amalia Botero, and Education Minister María Fernanda Campo - is in line with the Ministry's objectives for the current four-year period in terms of the coverage and efficiency of the education currently provided in the country.