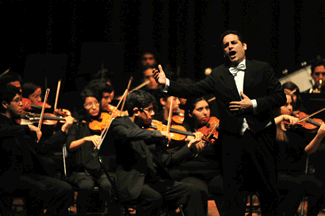 Juan Diego Flórez gives magnificent concert accompanied by the Peruvian Youth Orchestra
June 01, 2011
Peruvian President Alan Garcia, Foreign Minister José Antonio García Belaunde, and CAF director in Peru Eleonora Silva attended the concert to launch the Peruvian System of Youth and Children's Orchestras, held in the Santa Ursula College auditorium.
(Lima, June 1, 2011).- The Peruvian System of Youth and Children's Orchestras (SOJIP) was officially launched with a splendid concert, with the outstanding participation of tenor Juan Diego Florez and the Youth Symphony Orchestra, a project which CAF - Latin American development bank - has supported for the last 11 years.
"I welcome the presence of all of you who support this wonderful project which will transform the country socially through music; thanks also to the companies and institutions which have helped us grow orchestras in our land," SOJIP president Juan Diego Flórez said at the start of the concert. The event was attended by Peruvian President Alan García, Foreign Minister José Antonio García Belaunde, Minister of Culture Juan Ossio, and CAF director in Peru Eleonora Silva Pardo.
The celebrated Peruvian tenor stressed the importance of being part of an orchestra in the life of a child. "Children who sing in a choir or play in an orchestra are academically better, become an example for their family and the pride of their community; it is an effect which eventually spreads to everyone," he said.
The Youth Symphony Orchestra - conducted by Venezuelan maestro Manuel López Gómez - delighted the audience with works from celebrated Italian composers: "La Cenerentola" and "La Gazza Ladra" by Gioacchino Rossini, "Rita" and "La Favorite" by Gaetano Donizetti, and "Un giorno di regno" by Giuseppe Verdi.
Other pieces included "Light cavalry" by Franz von Suppe, "Carmen" by Georges Bizet, "La Dame Blanche" by François-Adrien Boïeldie, and "Le roi d'Ys" by Edouard-Victoire-Antoine Lalo, all great composers and representatives of French 19th century opera.
The audience was enraptured by the orchestral accompaniment for each aria sung by the Peruvian tenor, particularly "Allegro io son" from the opera "Rita" by Donizetti.
The night ended with the "marinera" "El Palmero" and the traditional waltz "La Flor de la Canela" when Juan Diego Flórez, accompanied by the extraordinary Youth Symphony Orchestra, showed off his great vocal quality, technique and depth of feeling, and received a long standing ovation.
CAF and SOJIP signed an agreement on May 26 to expand the scope of the activities of the CAF Social Action for Music program in Peru, and increase the number of young people involved.
The Peruvian System of Youth Orchestras works with the conviction that the art of music is not reserved for minorities, but is an instrument that produces a powerful motivation for improvement and discipline in all who approach it with an open mind.
The CAF Social Action for Music Program (PASM), which began in 2000, has made an effective contribution to social inclusion and cultural development, important objectives of the Latin American financial institution.