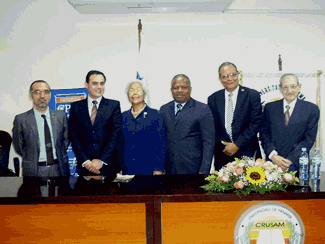 Leadership and strengthening political governance in Panama
June 01, 2011
The second annual CAF International Diploma in Governance and Political Management will take place from May to October 2011.
The diploma course is organized by CAF in partnership with the Center for Public Policy and Transparency (CPPT), attached to the Vice Rectory of Extension, University of Panama, and with George Washington University (GWU).
Over 140 officials from governmental bodies and civil and social organizations in the country are participating.
(Panama, June 1, 2011) .- Over 140 officials from government agencies, municipal governments, and civil and social organizations from Azuero, Cocle, San Miguelito and Chiriqui are participating in the CAF international Governance and Political Management diploma 2011, an academic program organized by CAF - Latin American development bank - in partnership with the Center for Public Policy and Transparency (CTPP), attached to the Vice Rectory of Extension of the University of Panama, and George Washington University ( GWU).
"This is one of the CAF programs aimed at reinforcing the education and integrated training of authorities and technical teams from government bodies and other organizations, in a context of decentralized management, with the objective of raising levels of democratic governance," Ruben Ramirez, director representative of the multilateral financial institution in Panama, said.
The University of Panama's CPPT is CAF's strategic ally in Panama for implementation of this program. "Given the success achieved last year with the participation of over 120 participants from 15 municipalities in seven provinces, we decided to increase the quotas for this year which has been very well received. We welcome the participation of municipal officials, judges and mayors because it means we can provide the tools needed to improve performance in public management," CPPT coordinator ad honoren Alma Montenegro de Fletcher said.
The diploma course has a staff of instructors with recognized experience nationally and internationally. The course lasts five months from 20 May to 22 October and is given simultaneously at the regional centers of the University of Panama in Azuero, Coclé and San Miguelito, and in the Chiriquí Autonomous University (UNACHI). Participants will have the opportunity to deepen their knowledge of a range of subjects including ethics and political action, community leadership, logical framework for projects, strategic planning, social management, political marketing, and grassroots mobilization, among others.
The CAF Governance and Political Management Program began in 2001 in Bolivia with a successful pilot project, with the academic backing of the School of Political Management of George Washington University. Later countries such as Argentina, Colombia, Ecuador, Mexico, Peru and Venezuela joined and since 2010 it has been held in Panama.