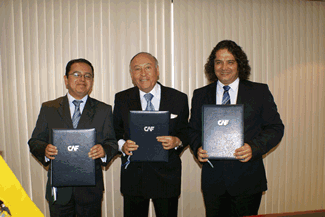 More and better roads for Ecuador
June 28, 2011
Ecuadorian Finance Minister and CAF president sign loan agreements for a total of US$77.2 million covering integrated response to emergencies caused by natural phenomena.
US$135 million approved for the Ecuadorian government's Road Program including 18 projects for road construction and rehabilitation.
(Caracas, June 28, 2011).- CAF - Latin American development bank - and the Republic of Ecuador, through the Ministry of Finance, signed loan agreements for a total of US$77.2 million to be used for various activities in the National Habitat and Housing Risk Management Project; and for slope stabilization projects in the El Calvario hills in Zaruma and Gatazo cantons in the city of Esmeraldas, after these were defined as one of the State's responses for helping victims of the emergencies declared in the country.
The agreements were signed by Ecuadorian Finance Minister Patricio Rivera, and CAF President & CEO Enrique García. After the signing García emphasized the development bank's permanent commitment to Ecuador and said the agreements were made under the Contingent Financing Facility for Integrated Response to Emergencies Caused by Natural Phenomena in Ecuador which CAF has made available to Ecuador.
"The objective of the Financing Facility that CAF offers its partner countries is to support restoration of basic services, carry out preliminary studies on execution of works for final reconstruction and prevention of future risks, and above all to provide an integrated response to the needs of families affected by the disasters caused by natural phenomena," García added.
Better roads for integration
Under the National Plan for Good Living, implemented by the Ecuadorian government, a National Territorial Strategy was established to prioritize and improve the efficiency of transport, power and connectivity infrastructure, stimulating a transformation of the country toward more equality. To support this strategy, CAF today announced approval of US$135 million for the Road Development Program whose objective is to contribute to the development of Ecuador's Road Master Plan.
García said, "this project is part of the integration strategy that CAF has been promoting in the region since its creation by supporting the expansion of the internal road network and the integration network with neighboring countries." He also emphasized the importance for CAF of improving transport in Ecuador and neighboring countries in order to facilitate the movement of people and goods nationally and internationally as an effective contribution to strengthening the economy and improving the quality of life.
The Road Development Program in Ecuador consists of 18 projects covering various highways and cities aimed at promoting regional integration through improved road connectivity with neighboring countries, opening access to areas with potential for agricultural production and trade and tourism development, and rationalizing vehicular traffic in cities with high population growth, specifically in highly congested nodes.
The program has a total cost of US$193 million of which the CAF loan represents 70%; the remaining 30% will be financed from local input.