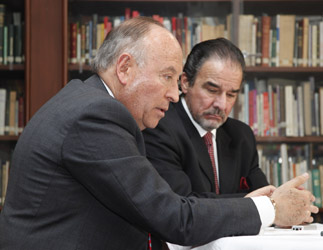 Over $1 million in grants for development projects in Colombia
June 03, 2011
The president of the Latin American financial institution, Enrique García, signed agreements with Fedesarrollo, Colombianitos, Inco and Mintransporte, Corona Foundation and FAN.
(June 3, 2011).- The president & CEO of CAF - Latin American development bank - Enrique García signed non-reimbursable technical cooperation agreements for a total of US$1.24 million focused on institutional social action and research projects.
"We have concentrated on partnerships and programs which stimulate an integrated development agenda for Colombia. In this respect we are working closely with leading institutions and foundations to help us achieve the planned results," García said.
The following agreements were signed (by date):
Before his departure, García said "the granting of non-reimbursable funds by CAF is an important tool for assisting nations and facilitating investment projects favoring the competitiveness of productive chains, building social capital and improving the management capacity of institutions."