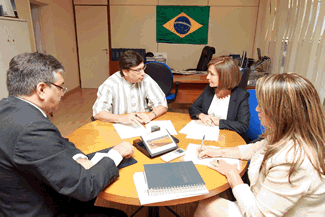 Promoting better public policies for the region
June 14, 2011
CAF and the Institute of Applied Economic Research (IPEA) signed an agreement to stimulate activities to improve public management and public policies related to sustainable development in Latin America.
IPEA is a public foundation linked to the Strategic Affairs Secretariat of the Presidency of the Republic of Brazil.
(Brasilia, June 14, 2011).- A framework cooperation agreement was signed today by CAF - Latin American development bank - and the Brazilian Institute of Applied Economic Research to jointly promote cooperation projects primarily intended to improve management and public policies which favor sustainable and inclusive development of the countries of the region. Marcio Pochman, president of IPEA, and Moira Paz Estenssoro, CAF director representative in Brazil, signed the agreement.
For CAF President Enrique García, "sustainable development is the essence of our mission. We work in all areas related directly or indirectly to better development of the region. By joining forces with IPEA we will continue generating knowledge in favor of the improved public policies that Latin America needs to achieve sustainable inclusive equitable and efficient development, and become a more prosperous region."
IPEA - Institute of Applied Economic Research - is a public foundation linked to the Secretariat of Strategic Affairs of the Presidency of the Republic of Brazil. Its research activities provide technical and institutional support for government efforts in formulating public policy and development programs in Brazil. It carries out research and social and economic studies which are available in publications and seminars and, more recently, through radio and television.
CAF is an important source of generation of knowledge and expertise on development issues, sustainability and integration, with the independent thinking resulting from its direct involvement in the evolution of Latin America over the last 40 years, and recognition of the importance of working hand in hand with other academic institutions. For this reason, the Latin American development bank takes part in joint research programs with the most prestigious international academic institutions and development agencies with special interest in Latin America.