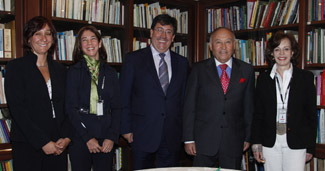 Tackling poverty and inequality is a priority
June 03, 2011
Joint programs with Corona Foundation to improve the institutional quality of local governments by means of qualified follow up of public policies and promotion of citizen participation.
CAF chief executive Enrique García reaffirmed his institution's commitment to Colombia and its development programs.
(June 3, 2011).- Through a framework agreement, CAF - Latin American development bank - and the Corona Foundation agreed to coordinate, cooperate, complement, facilitate and support sustainable development initiatives in Colombia with the objective of raising institutional quality and promoting citizen participation.
The agreement was signed by Enrique García, president & CEO of the multilateral financial institution; Rafael Santos of Casa Editorial El Tiempo; and the directors of the Corona Foundation, Elena Echevarría and Ana Mercedes Botero.
One of the first initiatives relates to the "How we are doing" program, which measures a series of indices on quality of life in cities and is currently a benchmark initiative for national political and economic sectors.
"The agreement will help us explore the scope of our social initiatives in the country, emphasizing human development, with the aim of reducing poverty, creating opportunities and strengthening institutional quality to move toward greater equity," García said. Since its inception CAF has been working to strengthen institutions and governance programs through a series of initiatives designed to build capacities for intervention by local and national governments.
Under the agreement, which will run initially for four years, a detailed review will be made of the social groups on which future specific agreements could have greatest impact.
"Our Foundation places a high value on partnerships. They are a key factor for success in developing strategies and enhancing projects, which so we are very satisfied with this achievement," the executive director of the Corona Foundation, Ana Mercedes Botero, said.
The Corona Foundation is a nonprofit organization dedicated to building capacity for stimulating social development, quality of life and equity in Colombia. The Foundation implements innovative community development projects, encourages organized and responsible citizen participation, develops programs to generate employment opportunities and income for vulnerable groups, supports access to quality education, health services, and the design and implementation of public policies.