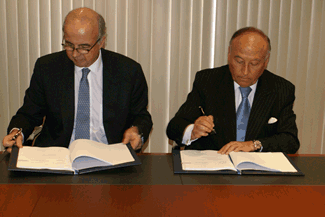 US$685 million for infrastructure and financial sectors in Peru
June 28, 2011
A US$300 million loan agreement was signed with the Republic of Peru for section 2 of Line 1 of the Lima Electric Train.
Cofide, the Peruvian development bank, was granted a US$350 million line of credit, and equity ownership was approved.
(Caracas, June 28, 2011).- A US$300 million loan agreement was signed today at the headquarters of CAF- Latin American development bank – with the Republic of Peru to partially finance Section 2 of Line 1 of the Lima Electric Train.
The agreement was signed by Peruvian Economy and Finance Minister Ismael Benavides, and CAF President & CEO Enrique García.
"The project is part of the integrated plan for modernization of the Metropolitan Lima urban transport system," García said. "For CAF it is particularly important to contribute to improving the transport conditions of the inhabitants of Metropolitan Lima through execution of a high-tech metro-type system."
This is the second CAF loan for the Lima Electric Train Project; previously CAF had granted US$300 million to partially finance the civil works component of Section 1 of Line 1 between Villa El Salvador and Avenida Grau.
The Lima Electric Train is an economic, safe and non-polluting mass transit system which moves people around the city and connects the center of Lima with the suburbs.
This current project now approved involves construction of Section 2 of Line 1, starting at Grau Station and ending at San Juan de Lurigancho, integrating with the existing Section 1.
Funds for Peruvian financial system
CAF also announced approval of two lines of credit totaling US$350 million for Corporación Financiera de Desarrollo SA (COFIDE) and equity ownership in the Corporation for US$35 million to be used for loans, guarantees and financing of infrastructure and productive investment.
After commenting that COFIDE is one of Peru's largest financial institutions, the CAF chief said such approvals were part of the inter-institutional cooperation established between the two institutions.
"The agreement covers increased direct financial support for Cofide, development of co-financing mechanisms for productive investment projects and priority infrastructure for the country, along with support for capital strengthening to facilitate growth and encourage the participation of other multilateral organizations and foreign banks" the CAF chief said.