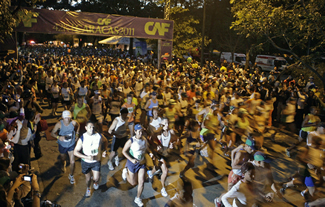 CAF Caracas Marathon set for second event in 2012
July 15, 2011
The second Caracas annual international marathon announced for February 5, 2012.
More entrants are expected than in the last event which attracted over 3,500 runners from 20 countries.
(Caracas, July 14, 2011).- "In February 2011 we achieved the first world-class marathon in Caracas on a festive day that brought together the entire Caracas and Latin American community. The challenge will now be repeated on February 5, 2012." These were the words of Luis Enrique Berrizbeitia, executive vice president of CAF - Latin American development bank - and chairman of the Organizing Committee of the CAF Caracas Marathon 2012.
"To give continuity to this national and international sports event, which is in line with the CAF integrationist mission, we now announce the holding of the second CAF Caracas Marathon. The Venezuelan capital will continue to be the host of this competition which in its first year received over 3,500 runners from our 18 shareholders countries." Berrizbeitia said.
In accordance with Olympic tradition, the CAF Caracas Marathon 2012 will again offer two route options: marathon 42.195 km and half marathon 21.097 km.
As a result of the initiative of the South American Athletics Confederation, the 2012 CAF Caracas Marathon 2012 will also be the venue of the South American Marathon Championship, and once again the Venezuelan Athletics Federation (FVA) has designated the event as the National Marathon Championship in Venezuela.
"The success of the first marathon would not have been possible without the support of national and municipal authorities and their security agencies, the FVA, the International Association of Athletics Federations (IAAF), and the Association of International Marathons and Distance Races (AIMS), which will also join us in 2012," the CAF executive said.
The event will again be sponsored by Adidas and Gatorade.
Registration is now open via the website: http://maraton.caf.com