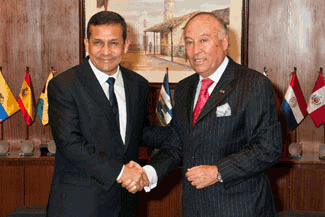 President-elect of Peru visits CAF headquarters in Caracas
July 15, 2011
During his visit to Caracas, Ollanta Humala held a working meeting with CAF President Enrique García.
During the meeting, the president-elect highlighted CAF's Latin American dimension, and the head of the organization reaffirmed support for the initiatives planned by the new government for the development of Peru.
CAF announced over US$7.50 billion for operations in Peru over the next five years.
(Caracas, July 15, 2011) .- During his visit to Caracas, Peruvian President-elect Ollanta Humala visited the headquarters of CAF - Latin American development bank - and held a working meeting with the president & CEO of the financial institution, Enrique García.
They discussed the main challenges and opportunities open to the region and the need to strengthen Latin American integration schemes.
The talks also covered the new government's priorities and definition of an action plan with CAF support aimed at helping achieve the important goals that have been set.
After the meeting García thanked the president-elect for his visit and emphasized the close collaboration that has historically existed between Peru and CAF, and the institution's strong commitment to regional integration.
García said "Peru is a founding member and one of the institution's main shareholders. On this occasion we reaffirm support for the initiatives which the new government will undertake, especially promotion of high and sustained economic growth which is inclusive and respectful of cultural diversity and the environment."
In this respect, the CAF president announced that the institution was ready to approve operations for US$7.50 billion for Peru over the next five years.
"These funds will be used for programs and projects in the public and private sectors in the areas of infrastructure, social development, productive transformation, intelligent international participation and institutional strengthening, including others that the government defines as priorities for the development of Peru," García said.
"Access to and provision of basic services for all the people - he added - is an issue that was especially emphasized in the meeting."
President-elect Humala - accompanied by his wife, Nadine Heredia, and a delegation – underlined CAF's important role in supporting Latin American countries, in particular Peru, not only with finance but also with the knowledge and experience gained by the institution in over 40 years working in the region.
Humala said he was pleased with the results of the meeting. "Peru has about 30 million people and our government wants to work for 100% of them, covering their needs in infrastructure, education, health, etc."
"To meet these needs, the State has to have available a series of financial tools for which we have to create levels of confidence and competitiveness; this is our commitment: to maintain and improve what is already being done in the country, and the support offered by CAF will be very important for achieving this." Ollanta Humala concluded.