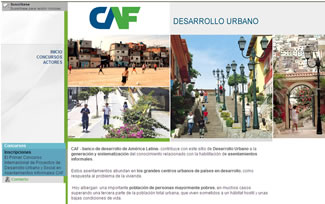 Proposals from Uruguay, Peru, and Argentina win competition for strengthening Latin American urban development
August 22, 2011
CAF's first International Competition of Projects for Urban and Social Development in Informal Settlements received 34 proposals for improving the quality of life in 11 countries of the region.
(Caracas, August 22, 2011). A Uruguayan project aimed at educating, training, making us of, and improving the habitat on the banks of a stream that runs through Montevideo, Uruguay the "Casavalle" Project- was the winner in the first International Competition of Projects for Urban and Social Development in Informal Settlements, an initiative of CAF "Latin American development bank- aimed at furthering the development of solutions to typical housing problems in the region.
"We seek to support local initiatives that are capable of having a positive impact on the quality of life in developing countries, where the disorderly and hostile growth of informal settlements around urban centers is becoming increasingly common. That is where the competition becomes relevant as a real alternative for addressing specific chronic problems in modern Latin American cities," commented CAF's President and CEO Enrique García.
In all, 34 proposals from 11 countries in the region were judged, with Venezuela submitting 13 initiatives; Colombia and Peru four each; Argentina three; Mexico, Brazil, and Chile two each; and the remaining countries, Dominican Republic, Ecuador, Costa Rica, and Uruguay, submitting one each.
The Peruvian Community Center for Participation, which presented the design for a public space community center in Pisco, Peru, with an ingenious social proposal and efficient systems of community participation, won second place; and third place went to "Los Aleros," a project for the construction of a community center in Santa Fe, Argentina.
The panel of judges was made up of Alejandro Echeverri, an architect and the Urban Director of the Center of Urban and Environmental Studies at Universidad EAFIT; Jorge Jauregui, an architect involved in the Favela Bairro Program in Rio de Janeiro, Brazil, and Jaime Holgu¨ªn, the chief executive at CAF's Social and Environmental Development Vice-presidency.
For some years now, CAF has been taking part in and promoting initiatives that strengthen organized urban development that is sustainable over the long term as part of its comprehensive development efforts for Latin America.