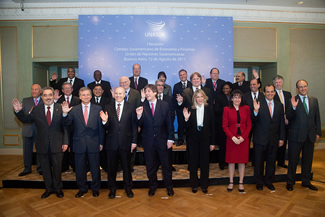 UNASUR economy and finance ministers agree to strengthen Latin American development bank
August 23, 2011
At a recent meeting in Buenos Aires, the ministers formally created the South American Council of Economy and Finance
(Special, August 23, 2011). The ministers of economy and finance, together with the presidents of the central banks of 12 South American countries -Argentina, Brazil, Bolivia, Chile, Colombia, Ecuador, Guyana, Paraguay, Peru, Surinam, Uruguay, and Venezuela- who met recently in Buenos Aires, formally created the South American Council of Economy and Finance of the Union of South American Nations (UNASUR). At the Council's first meeting, it was agreed to coordinate efforts on preventing potential impacts of the global financial crisis in the region.
During the meeting, important decisions were taken, among the most noteworthy being the design of a joint action plan by the 12 countries of the region and the coordination of the handling of their central banks, and also to make development banks stronger in order to use them as a vehicle for development in the region by strengthening mechanisms for financial integration and the promotion of development. In this regard, agreement was reached on strengthening the institutional side of CAF –Latin American development bank-, a Latin American financial institution owned by the countries of the region.
On this matter, Enrique García, CAF's president and CEO, pointed to "the need to resume the dynamic of the processes of regional integration where progress has already been made as a prerequisite for improving the region's competitiveness in the world context." "Integration should be seen not as a luxury but as a necessity," affirmed García, while he expressed his pleasure at the backing CAF had received from the recently founded South American Council of Economy and Finance.
South American Council of Economy and Finance
Technical cooperation with UNASUR signed in Quito
As part of the commitment undertaken by CAF to work for regional integration, last Thursday, August 18, in Quito, Hermann Krutzfeld, CAF's director in Ecuador, and Maria Emma Mejia, the secretary general of UNASUR, signed a technical cooperation agreement to strengthen and support UNASUR's regional integration activities by participating in the building of a space for political dialog among its member countries.