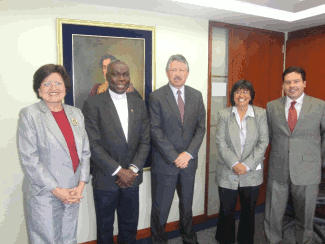 Better days for children and young people in Esmeraldas
September 16, 2011
CAF supports a social rescue project in Ecuador that will contribute to the training of more than 70 teachers from 30 educational establishments in Esmeraldas and more than 10,000 students with a view to creating a new sports culture.
(Quito, September 15, 2011). CAF-Latin American development bank- and the San Daniel Comboni Sports and Technical Education Unit in the city of Esmeraldas signed a cooperation agreement to implement CAF's Social Action through Sports Program (PASD after its initials in Spanish), the purpose of which is to improve the quality of life of children and adolescents at risk by means of an all-round education and, in particular, via one of the program's fundamental components: the practicing of sports as a tool for prevention and social rescue.
The agreement was signed at CAF's offices in Ecuador by Hermann Krützfeldt, CAF's director, and Father Silvino Mina, the Episcopal delegate of the San Daniel Comboni Education Unit.
CAF's director referred to the scope of the technical cooperation for training more than 70 teachers in six provinces of Ecuador who have received an Hispanic and bilingual intercultural education and some 10,000 pupils from several educational establishments in Esmeraldas, thus contributing to the development of a new educational culture that focuses on the all-round education of the individual and promoting greater social inclusion.
As Father Silvino Mina explained, "this project fills us with hope for giving our children and young people better days. We are grateful to CAF as, without its support, it would not have been possible to bring this program to fruition. Today we are educating our students to be responsible and for work."
The San Daniel Comboni Education Unit established a cooperation agreement with Sportmeet, an international organization of sports professionals that is a member of New Humanity, a body recognized by the United Nations. Sportmeet will support the school so that its technical staff and students will be able to receive training in the use of games and sports for development and peace.
The technical cooperation resources will be used, among other things, for the acquisition of teaching materials and to provide trainers and technicians with training.
At the start of this year, under CAF's Social Action through Sports Program, CAF and the humanitarian organization Right to Play signed an alliance to contribute to the all-round education and development of more than 120,000 Latin American children. Right to Play uses sports and games to improve health, develop life skills, and foster peace among children in the most underprivileged parts of the world.