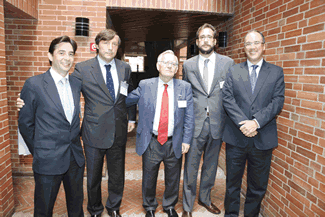 CAF and OECD presented the Latin American Network on Corporate Governance for State-Owned Enterprises
September 23, 2011
The event was held in Colombia with over 130 public sector representatives from 14 countries in Latin America, the United States and Europe.
(Bogotá, September 23, 2011) .- Under the coordination of CAF - Latin American development bank - and the Organization for Economic Cooperation and Development (OECD), and with the support of the Government of Spain, the Latin American Network on Corporate Governance for State Enterprises (SOEs) was presented in Bogota. The objective was to enhance good governance in SOEs in the region by sharing experiences and knowledge on policies, practices and reforms, using the guidelines developed by the two multilateral organizations as the main framework.
The event was opened by the minister of Finance and Public Credit, Juan Carlos Echeverry; the High Counsel for Public and Private Management, Catherine Crane; the OECD manager of Corporate Affairs, Hans Christiansen; and CAF director representative in Colombia Víctor Traverso.
The meeting consisted of the presentation - in four sessions - of the priorities of state enterprises in Latin America in terms of governance, ownership models and their impact on management of state assets; case studies such as Ecopetrol and EPM; and appointment, selection and evaluation of the boards of directors for this type of organization.
"Today a very important issue for our economies is which corporate governance principles can make the management of state enterprises more effective and transparent. CAF has a strong interest in opening spaces like this where the priorities of a country like Colombia on this area are also discussed, in addition to learning about the current state of policies and practices in the region and studying successful cases of public enterprises in Latin America -," Traverso said.
More than 130 representatives from Argentina, Brazil, Chile, Colombia, Ecuador, Spain, USA, Finland, Mexico and Peru, among others, attended the forum whose conclusions and reports will soon be available on the website http://gc . caf.com /.